Global Omega-3 Day Toolkit and Resources
Global Omega-3 Day™ is a day to call attention to EPA and DHA omega-3, share details about their important health benefits and highlight why people need to increase intake. As the day approaches, we have created content for you to share, so you can celebrate this important day with us!
Sample Social Media Posts
Here are some sample captions you can use for your Global Omega-3 Day™ posts:
Did you know? Not all omega-3s are the same! EPA+DHA omega-3s are what's needed for heart, brain, eye and prenatal health. Get these nutrients from fatty fish, marine microalgae and omega-3 supplements. Learn more #GlobalOmega3Day #AlwaysOmega3s #omega3 #DYK
Are you getting enough EPA+DHA omega-3s? Try this interactive quiz and see if you need more of these health-supporting nutrients! [link] #GlobalOmega3Day #AlwaysOmega3s
It's #GlobalOmega3Day!! EPA+DHA omega-3s are in every cell of the body, but yet most people fall far short of what they need. Comment below with ONE thing you can do today to increase your EPA+DHA omega-3 levels. Need hints? Look here #AlwaysOmega3s
To keep your omega-3 levels steady, consider taking a daily supplement. Fish, krill and algal oil are top sources of omega-3 supplements. Which one is the best? The one you enjoy and will take daily! #GlobalOmega3Day #AlwaysOmega3s
Need to brush up on your omega-3 knowledge? Start here, with some #FAQs [link] #GlobalOmega3Day #AlwaysOmega3s
Here are some posts from @AlwaysOmega3s you can download and re-share on your social media platforms:
(click on each post to download the images)
Follow us on Instagram to see more omega-3 posts like this!


Make Your Own Global Omega-3 Day™ Posts
Here is our logo with a transparent background so you can make your own posts:
Here are some customizable templates we have created for you on Canva: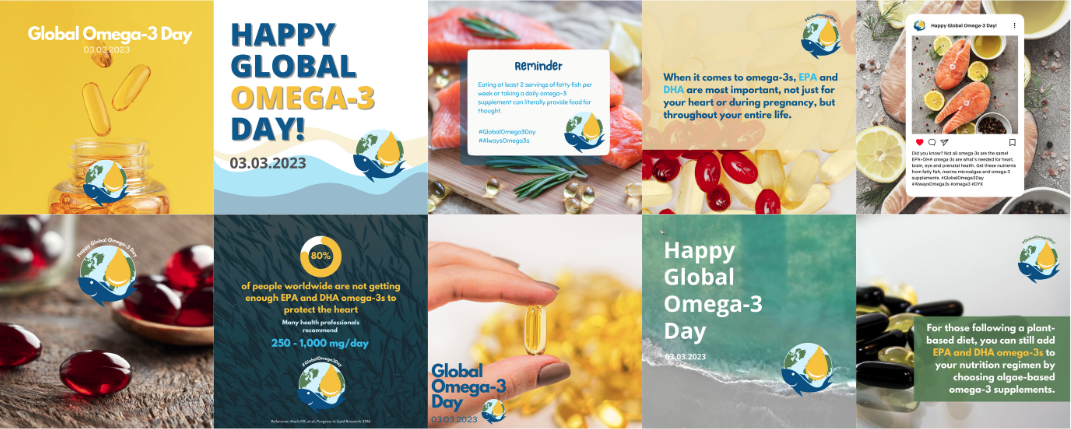 Take inspiration from our website
We have tons of other resources on this website that you can use to promote EPA and DHA Omega-3s, so please feel free to look around. We have highlighted a few for you here: