Global Omega-3 Day

March 3 (03-03) is Global Omega-3 Day™
EPA and DHA omega-3s are important for overall health, but most people don't get nearly enough! To highlight the importance of these marine-based fatty acids, we celebrate Global Omega-3 Day™ on March 3 (03-03). Help us spread the word and inspire others by posting your favorite recipes, supplements and healthy habits on Facebook, Twitter, Instagram - wherever you engage in social media. Be sure to tag #GlobalOmega3Day and #alwaysomega3s.
Why Omega-3s?
Omega-3s are nutrients found throughout the body. There are two types: marine-based omega-3s (EPA and DHA) and plant-based omega-3s (ALA). EPA and DHA omega-3s in particular play a role in overall health, including heart, brain and eye health, and in supporting a healthy pregnancy, and their benefits are supported by thousands of published scientific studies. On average, people get enough ALA omega-3s through their diet, but they fall far short on getting enough EPA and DHA omega-3s.
How much EPA+DHA omega-3s should you get each day? At least 1000 mg1

How much EPA+DHA omega-3s does the average person get each day? 90-100 mg2
Marine-based omega-3s come from the sea: think fish, seafood, and supplements made from fish, krill (a crustacean) and marine microalgae (the only vegan source of EPA+DHA omega-3). To get enough omega-3s, you should:
Eat fish – especially fatty/oily fish such as salmon, mackerel, herring and sardines – at least twice per week. (See this list of seafood and their omega-3 content)
Take an omega-3 supplement. Check the Supplement Facts panel and make sure the amounts of EPA and DHA add up to at least 500 mg per serving, if not more. (Learn how to read a supplement label)
Choose foods with added EPA and/or DHA omega-3s when available. These can be found in certain milk, eggs and other staples. Many infant formulas have added DHA to promote brain health and development.


Take this short quiz to see if you're getting enough omega-3s from your diet and daily habits. To learn more about the health benefits of omega-3s, browse through the rest of AlwaysOmega3s.com.
History of Omega-3 Day
Carol Locke, M.D., founder of GOED member company OmegaBrite, created International Omega-3 Awareness Day in 2010 as a non-profit international initiative to raise awareness of the science and benefits of omega-3 fatty acids. GOED and AlwaysOmega3s.com are excited to continue this important mission.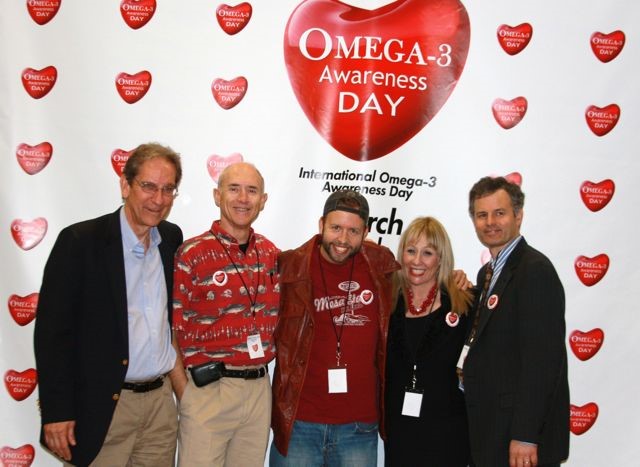 References
1. Bernasconi AA, Weist MM, Lavie CJ, et. al. Effect of omega-3 dosage on cardiovascular outcomes: an updated meta-analysis and meta-regression of interventional trials. Mayo Clinic Proceedings 2021. 96(2):304-313.
2. U.S. Department of Agriculture, Agricultural Research Service. 2018. Nutrient Intakes from Food and Beverages: Mean Amounts Consumed per Individual, by Gender and Age, What We Eat in America, NHANES 2015-2016.